We all have our own 'choice' words to describe work-related stress, but Japanese has one of the most severe.
When I started my career, I always thought they'd have to carry me out of my office 'in a pine box' (as my grandmother's charming expression would have it!). I thought I'd love it so much, I wouldn't want to retire until I was 80+.
It didn't take me that many years to realise that those visions might come a lot sooner than I expected if I didn't stop working.
Over the past week, I suffered a mild cold, and for the first time, discovered that my main concern was  getting well, rather than masking the symptoms sufficiently for me to perform my work duties.
We all want to be healthy, wealthy and wise – and to some extent, these three things may be related – making wise choices can improve our health and wealth, being healthy can help us to increase our wealth and education, and being wealthy often makes obtaining health care and education much easier. But aside from rhyming, what do health and wealth have in common?
There is little point in saving money – living frugally, striving for financial independence – if it isn't to have a long, happy life.
Saving money simply for the sake of not spending is miserly, mean, tight and stingy.
Saving money to enrich your life is prudent, penny-wise, efficient, and savvy.
Increasing your degree of financial independence is, to me, a very important opportunity to improve your health.
Yet I was given reason to pause when an always-interesting friend on Simple Savings posted a link to an article in the Journal of Epidemology & Community Health that concluded early retirement 'may be a risk factor for mortality and prolonged working life may provide survival benefits among US adults'.
Another study, cited on the Freakonomics blog, however, found among an Austrian population that the effect of early retirement on female mortality was essentially 0, and that up to a third of male early retirees' increased mortality could be attributed to taking up unhealthy behaviours (e.g. drinking and smoking).
How healthy is work?
Japanese has a word – 過労死 (karoshi) which literally means over-work-death. Its major medical causes include heart attack and stroke due to stress, and a starvation diet (although the opposite – too many steak-and-wine business lunches – has health risks too). The same word – pronounced 'guolaosi' is used in China also, and the phenomenon is known as 'gwarosa' (과로사) in Korea.
In his book, The Joy of Not Working (which has both Japanese and Chinese editions), Zelinski writes a great deal about overwork in Asia: in Japan, 10% of workers are at risk, working under the same conditions as those who have died of karoshi, and the country has one of the highest suicide rates in the world.
Even those of us who work 40, 60, or 80 hours a week instead of 90, 100, or 110 often find work stressful. In fact, around 1 in 4 people report work as the most stressful aspect of their lives.
Increasingly, our jobs are both time-consuming and sedentary. Over 80% of Americans now work in jobs requiring staring at a screen and little to no physical activity, resulting in obesity, vision problems, increased cardiovascular disease and exposure to germs. Work-related stress is estimated to cost the US up to $300 billion a year. By reducing or eliminating a need to sit at a desk for 8 or more hours a day, we can free up more time for physical activities, improve our ability to sleep well, and live a more peaceful existence, as Your Money or Your Life points out.
This has certainly been my experience since quitting my job.
But if you are planning on leaving your job, or reducing the hours you work, (in whole or in part) to improve your health, it's important to have goals not just for your wealth, but for your health too.
One of the unexpected bonuses of volunteering in Fiji has been becoming more physically involved. We have been sawing, hammering, and drilling, largely without power tools, as the school has only emergency backup power. In the tropical heat, it makes for a sweaty workout!
But even before I left, having just made the decision to leave, I found a number of psychological benefits in knowing that I was no longer defined by my job, and one day very soon, would be free to make other choices.
No matter how much you exercise or eat right, you cannot guarantee health anymore than you can financial success. But often, the goals of health and wealth go hand in hand. The simple act of eating frugally, for example, for me means less eating out, and more eating of fresh fruit, vegetables, eggs, and meat from the markets.
No matter what I do, from here on in, my physical and mental health is unlikely to improve much. Maintenance is key. The past month or so has been the first time since I was 5 years old that I have not been undertaking either full time education or employment (or both). (In fact, I have just finished my Diploma of Personal Finance, which I was studying out of personal interest!)
One of the reasons that achieving financial independence has been such an important goal for me is that I would like to enjoy my health. I would like to be able to go camping, on walks, on snorkelling adventures, to rock climb and ski and do all of the sorts of things that are difficult to do within the bounds of annual leave (especially as in my former occupation, I was bound to taking vacations outside of semester).
All of these are things I cannot guarantee I will have the same ability to do when I am 65.
Certainly, if I look after myself and am lucky, I will be able to do most if not all of these activities when I am in my 60s.
But on the other hand, I trust my ability to retire early more than I do my chances of being as healthy as someone 30 or 40 years younger when I am in my 60s – especially if I have spent over 40 years in an increasingly stressful, sedentary job. Thus, reducing my need to work has been a massive part of my long-term plan for overall well-being – happiness and health.
Employed or not, in our 20s, 30s, 40s, 50s, 60s, or beyond, we all need to balance our lives. Being fixated on a goal to the point of exhaustion does nothing for you. Scrimping and saving too much can turn you into a miser, or cause breakouts of shopping sprees. On the other hand, knowing that the money I earned each day would buy me a percentage of my freedom was an exciting, positive goal that certainly helped my mental well-being, and encouraged me to make more frugal – and healthier – choices… like walking to town instead of taking a taxi, or cooking a curry with vegetables I was given rather than eating out.
A news article published last year reports that on Mondays, 'heart attack risk is higher, suicide rate is higher, reported mood is lower, and stock returns are lower.' The stress of returning to work each week actually makes people physically sick.
I'm no health expert, and I believe there is a lot more research to be done on the connection between health, wealth, and work. But for now, for me, retiring means never having to experience Monday-itis again!
If you are experiencing any work-related (or other) stress, please talk to someone. You are not alone, and things can get better.
What does the connection between health and wealth mean to you?
If you enjoy #enrichmentality please share it!
Today's featured image is a selection of medication and some Fijian money!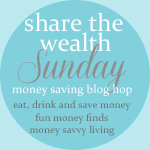 Save
Save
Save